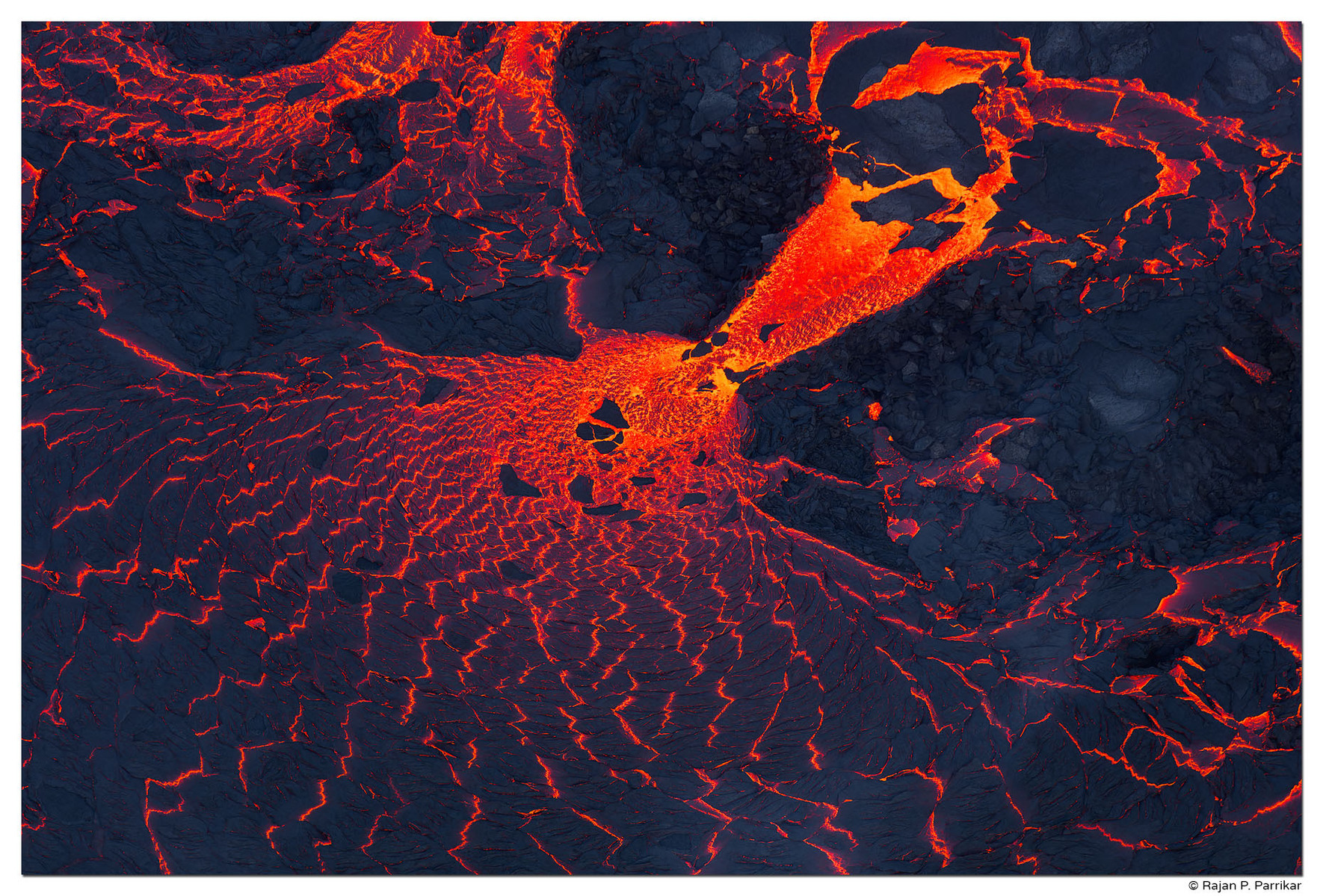 "A stroke of luck to be flying over it within an hour or so after the eruption. We were the only ones there along with the Icelandic Coast Guard helicopters. In such a situation, the images make themselves." - Rajan Parrikar
Let me first state that images do not make themselves. I've been following Rajan's work for awhile now and he is a very talented photographer. He shoots from the air and the ground. For aerial images his preference is a helicopter, on occasion however, he uses a drone.

Rajan was born and raised in Goa and moved to the USA in 1988 and earned a Ph.D. in Electrical Engineering at the University of Colorado Boulder. He worked in Silicon Valley for 12 years before moving to Iceland.
"I took to photography only in 2006, choosing to focus primarily on my birthplace Goa and Iceland. Goa and Iceland together serve as my lodestar. I have photographed widely in Goa, ranging over its landscape, cultural heritage, and people. I have documented the decay of its environment and socio-cultural identity thanks to India's malign influence. For the past 16 years I have covered much of Iceland in an ongoing exploration of this magnificent island."
Rajan and his wife visited Iceland in 2006, before it became the tourism destination it is now. Iceland Air made Reykjavik a hub and gateway to the rest of Europe with cheap fares and Instagram followers did the rest, but I digress."I used a Canon PowerShot to photograph Iceland, but looking at the photos I felt stupid, that there was little resemblance to what the photos showed and the magnificent sights I saw." This was the impetus for him to start learning the basics of photography. About to embark on a 2 year extended stay in Goa he decided he had to up his game, photographically speaking. This was a great opportunity to document Goa's land and heritage. To prepare for it he took an online photography course to refine his technique and then, spent $18,000 on photo gear from BH. When FedEx delivered the package buyer's remorse hit him. "WTF have I done?" Arriving in Goa he took his new gear into the field with enthusiasm, made the usual mistakes, but learned valuable lessons in the process. Rajan, also a musician, draws a direct path between his compositional aesthetic and his background in Indian Classical Music. Rajan and his wife decided to make Iceland their home about 5 years ago. He returns to India frequently to continue his photo documentation of life in Goa.

Here is a small selection of Rajan Parrikar's work in Goa…
… and now Iceland.
To view more of Rajan's work, check out his gallery and his blog. Click this link: https://www.parrikar.com