OK, so no, officially, it ain't over, on a personal level, I very much feel it is, or close. I think I've been a good citizen through all of this. I embraced the science, wore masks, washed hands, sprayed disinfectant and of course, as soon as possible, got THE shots. If all this doesn't work, maybe it is the end of days. At least we have seen all of those disaster movies to prepare us for it. Will life be the same again when they declare this done with? You can be sure there will be a pandemic postmortem, experts will tell us life will never be the same; relationships, office work, dress codes (… work leisure? Really?) look for everything to change, even the shape of Cheerios, or don't. Most of this prognostication will be wrong, and who cares anyway? If we dodged the bullet, be thankful, have faith. This brings me on a circuitous path to today's thoughts about the locus in the connection of art and religion.
I am what is often referred to as a secular Jew, identifying more with the culture and spiritual aspects of the faith. I was raised in a Kosher house and went to a Yeshiva (Hebrew School) as a kid. I think we had the only rabbi on earth who trained with a Baptist minister. He was all hell, fire and brimstone, I didn't know at the time that hell is not in the Jewish religion and every Saturday morning, when I would rather be watching cartoons, I was dragged to the synagogue and forced to listen as the Rabbi berated the flock from his elevated pulpit. Afterwards asking for donations for the synagogue building fund and to plant trees in Israel. Looking back, it was surreal. At some point, perhaps after my first taste of a bacon cheeseburger, I realized there was more to the universe and became more spiritual in my approach to whatever higher power was actually pulling the strings.
During travels I often found myself looking at and photographing houses of worship. I suppose the initial draw was the architecture and the atmosphere it creates. I recall the almost monochromatic, imposing stone space of the St. Magnus Cathedral in Kirkwall, Scotland. I could hear my breath echo in the cold stone venue, I suppose the idea was to create a heaviness to the space reflective of the weight of God.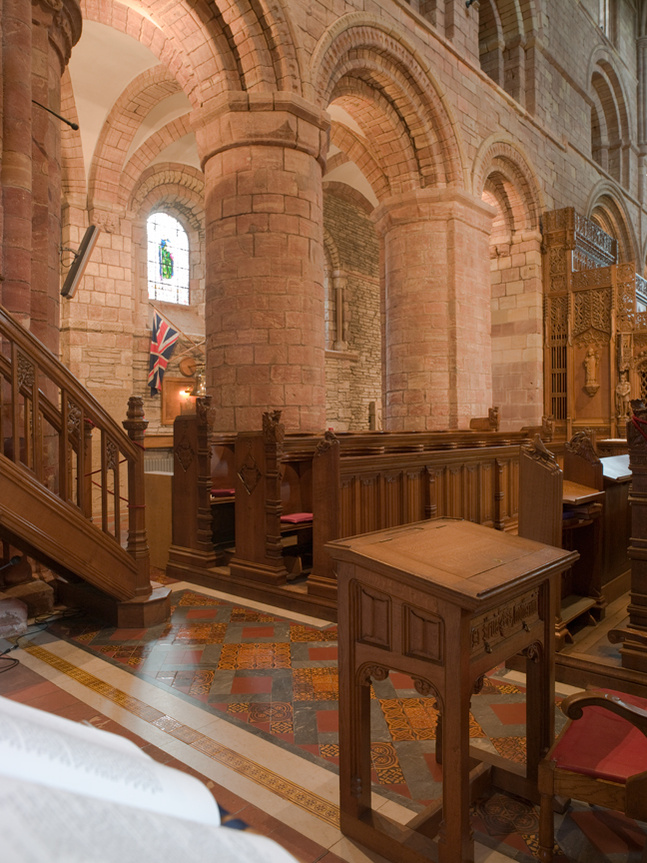 There is the Philadelphia synagogue of Moorish design, full of color and bright, intricate details. All of these structures are works of art.
Would my passion for photographing them take me on a path from agnosticism to belief in religion? No. If anything, I was bothered by the amount of money it took from oft-poor masses to create these gilded beautiful structures. I wonder how much good would be done if the money wasn't spent on gold fixtures, gowns and self-promotion, not in the name of God but in service. My skepticism about religion is based in a complex tapestry of issues for another time, but I do greatly appreciated the art and architecture created in the name of God. If God is in the details, it is because artists painted, sculpted and forged them there.
Ceiling detail of Rodeph Shalom Congregation in Philadelphia. Rodeph Shalom constructed its first dedicated sanctuary in 1871 on its current site at Broad & Mount Vernon Streets. Designed by Frank Furness, it is a showcase of Moorish-style architecture.
St. Michaels church in Philadelphia had fallen on hard times when I photographed it. The frescos were peeling and general maintenance was inadequate. The congregation is mostly lower income and cannot fund the repairs.
Next, Mother Bethel African Methodist Episcopal Church, Philadelphia. This is the oldest AME church in the country. The current structure was built in the 1880s.
Some embrace a simpler esthetic, as does Philadelphia's Society Hill Synagogue, above. I find a peacefulness in this. The Deo Soli Gloria in Costa Rica has a more modest exterior than some, with intricate detailed carvings, frescos and stained glass as the tapestry for the interior.