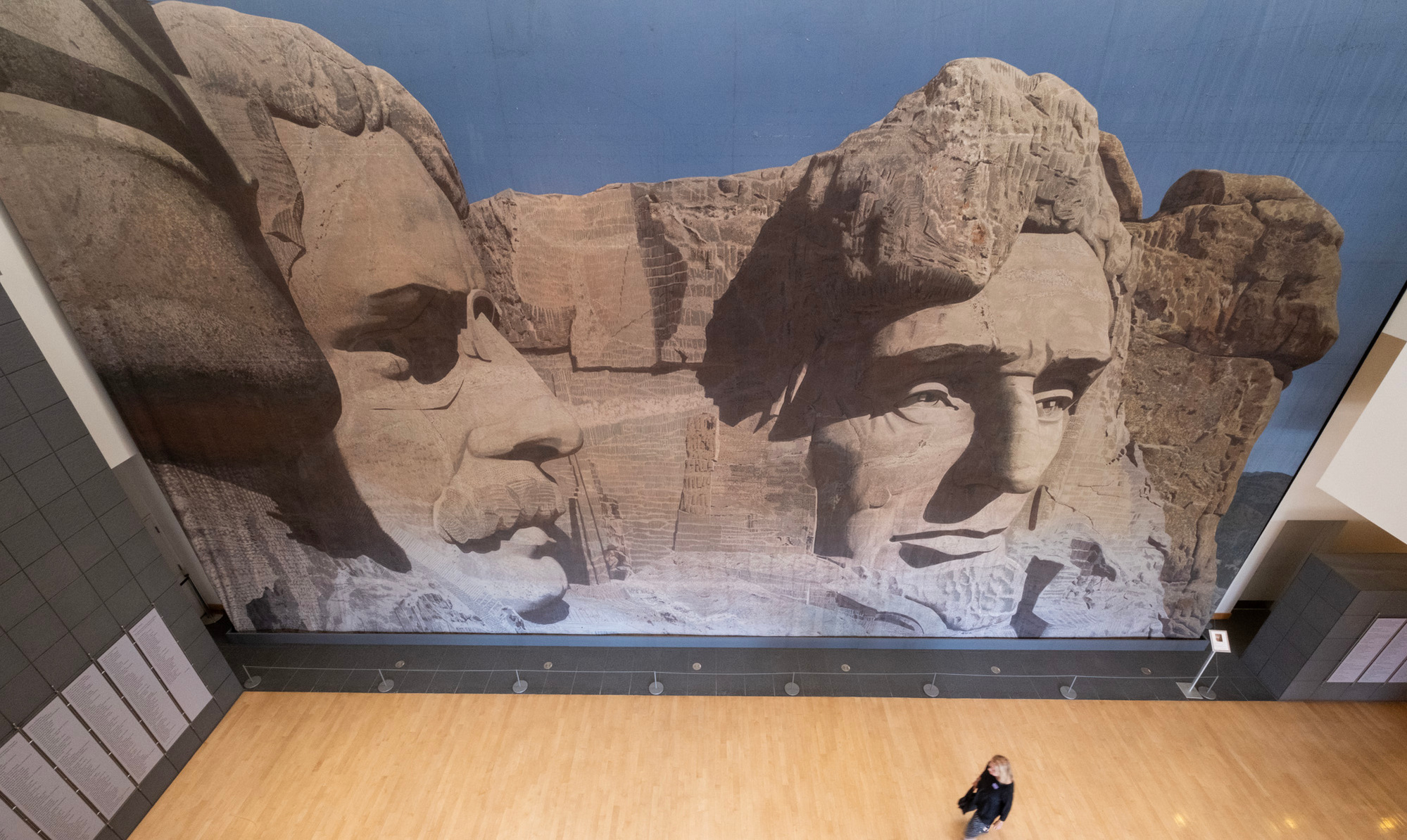 If you are of a certain age you will recognize this photos of Mt. Rushmore from the climax of Alfred Hitchcock's 1959 classic "North by Northwest" staring Cary Grant and Eva Marie Saint. If you are not of that certain age, seek out and rent this movie, you will thank me. Celebrating the artistry of the painted backdrop, this 90 foot wide piece is one of twenty on exhibit in Art of the Hollywood Backdrop at the Boca Raton Museum of Art.
These are larger than life backdrops painted by masters of the craft to imperceptibly blend onto the screen. Unfortunately, these artists worked anonymously, and their work while magnificent, went unheralded. Art of the Hollywood Backdrop brings long due recognition to these master craftspeople.
The making of a backdrop is a collaborative effort. In its heyday MGM had the premier scenic painting studio in Hollywood led by George Gibson. The studio produced backdrops for: The Wizard of Oz, An American in Paris, Brigadoon, North by Northwest and hundreds more. Of utmost importance for these backdrop projects was uniformity. Gibson had a system and method for painting scenics and his artists worked within that system. To give you an idea, here is a list of the team members, whom I am sure you never knew of, and their specialties:
Wayne Hill and Art Rider, colorists

Bill J. Smart and Ben Carre, layout and perspective
Clem Hall, architecture
Bob Oberdeck and Harry Tepper, ;landscape
Leo Atkinson could render every cloud formation
Clark Provins and Duncan Spencer specialized in landscape and architecture.
The last of the great MGM backdrops was probably that for The Shoes of the Fisherman (1968). It was in 1969 that MGM was sold and with that came a restructuring and sale of its assets and destruction of sets, costumes, props and more. Fortunately, MGM's inventory of backdrops was held safe in their scenic painting storage area.
Here is a selection of backdrops with the name of the movie captioned where available. Some of the backdrops had video displays adjacent to them with clips from the movie and production discussion.

For largest display, click on the image
Aside from the monumental display of backdrops, there are informational panels, displays and videos throughout the exhibit.
The exhibition runs through January 22, 2023. If you live in South Florida and are a film buff, (who isn't?) try to catch the exhibit.