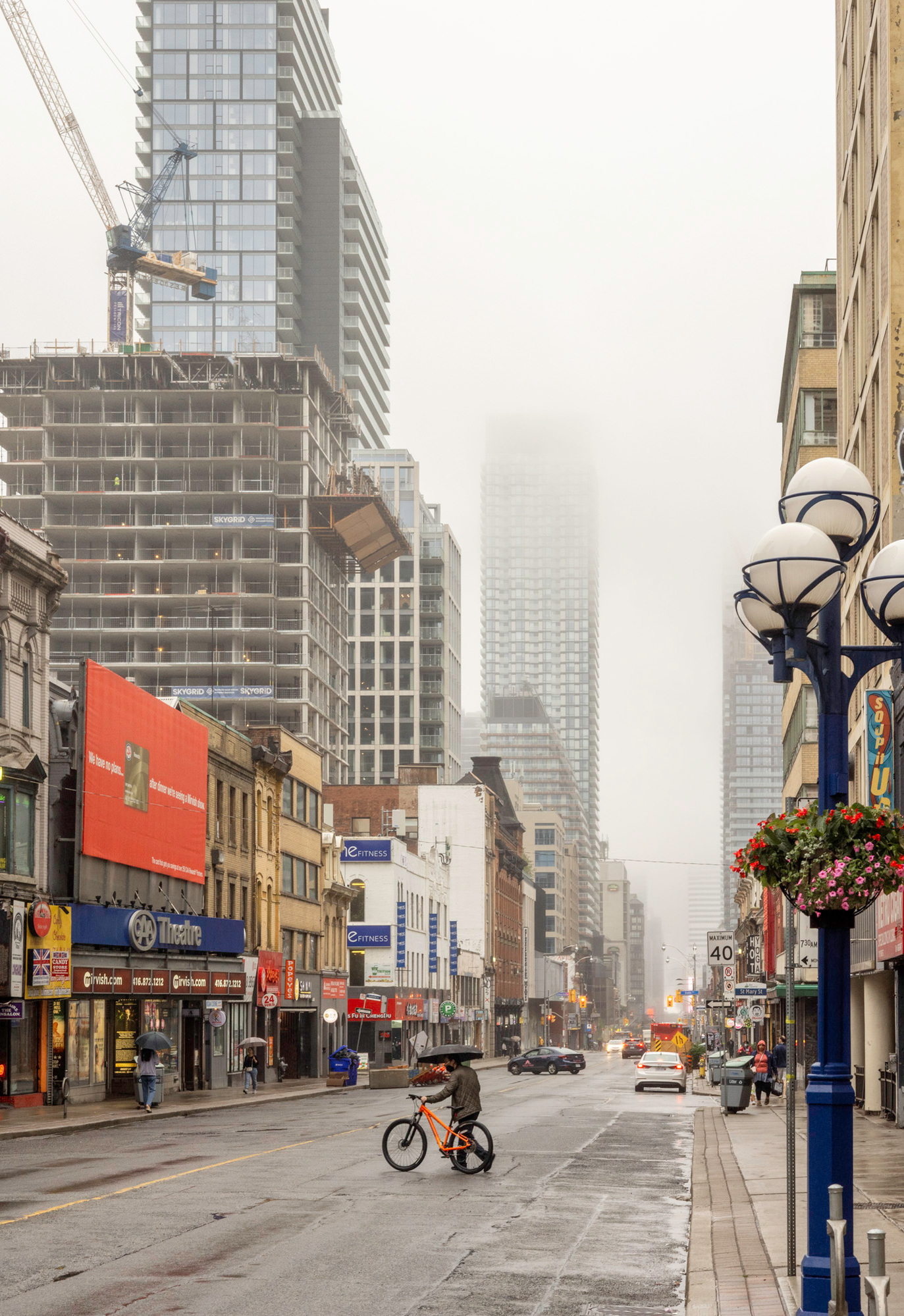 The weather in Pittsburgh improved somewhat as I left for the second leg of my trip, mostly light cloud cover, but no rain. I was hopeful for good weather in Toronto though rain was forecast, and hopeful also that the trip I had planned for months ago would not be a washout. I still have night terrors about a photo trip I took to Scotland years ago. Over two weeks, we had a lot of rain, (I caught a terrible cold), about two hours of sun, maybe three. After I edited my photos I had six to ten worth printing. 8,200 miles roundtrip for ten photos, I shudder when I think about it. With the global climate going through upheaval, you never know what you are going to get anywhere. I headed north from Washington D.C. toward Canada looking for refreshingly cool weather, a break from Washington's legendary summer heat and humidity. Pittsburgh didn't do it, I was sure Canada would save me. Traffic to Toronto got pretty heavy and the 5 hour trip took about 6 1/2. That seems to be the situation everywhere. Construction is constant in and around Toronto. Where there is construction there is heavy equipment and bumpy, undulating roads. As I get closer to the city I saw a huge number of tall thin buildings along with tall cranes. Like trees, a forest of them. Unfortunately there was no safe spot for me to pull over and take a shot. It would have been epic.
Toronto offered up rain on day one, I was tired from the long ride so I didn't care that much. Day two brought something in the way of fair skies by the afternoon of the second allowing a few local photos. Day three transitioned to sunny and 94 degrees. 94 degrees?! Oh, Toronto!
Unlike Pittsburgh, which has a plethora of classic older buildings with ornate architectural flourishes, almost eveything I saw in Toronto was contemporary. To be fair, I did not see the whole city, just the downtown area. Still, there were some interesting buildings, one in particular, the 76-story One Bloor Street has an art installation called " Safe Hands" by Israeli artist and designer Ron Arad.
Some people love it, some don't. I can't say I understand it, I don't know if I am supposed to, I thought it was cool. I especially like the color accents where the cylinders join and the crushed base . The stainless steel twin-tower is 88 feet high. Check out this mural across the street from the Andoore House hotel. I looked at it for quite awhile and I have no idea what message the elements are supposed to convey. I'm pretty sure it had no connection to the gelato place. If you figure it out, let me know, in the meantime I'll decipher cryptic vanity plates.
Toronto is a foodie's oasis. The downtown area has a great variety of ethnic restaurants, think of a culture and it is likely represented. Asian and Middle Eastern influences seem to be the strongest, but there are Indian, Caribbean, Ethiopian as well. I tried three during my stay.
The first evening, tired from the arduous drive, I had dinner at the restaurant hotel, Constantine. The chef designed a menu with heavy Mediterranean influences. I enjoyed this Beef Kofta flatbread, tomato-pepper sauce, red onion, banana pepper, feta, and cucumber vinaigrette; amazing flavor.
The next morning I wanted a basic breakfast. Given the food choices, I was surprised that there were no diners or delis in the downtown area. I just wanted eggs, bacon, toast, and coffee. There was none to be had in the neighborhood. The concierge at the hotel suggested the Landwer cafe, an Israeli restaurant just a few blocks away. It was a good choice. I had the Merguez Shakshuka with beef sausage, cherry tomatoes, roasted onion, parsley, labneh, and tahini. It was exquisite.
After walking around taking photos I wanted a light lunch so I went to "Ginger" a Vietnamese restaurant with a street food vibe for sweet and sour seafood Pho. It had shrimp, mussel, fish balls, along with that ersatz crab made from fish. Don't they know it looks fake? It didn't really matter, it was delicious.

The next day I woke to, despite meteorologists' forecast, beautiful clear blue skies, time to get out and about.