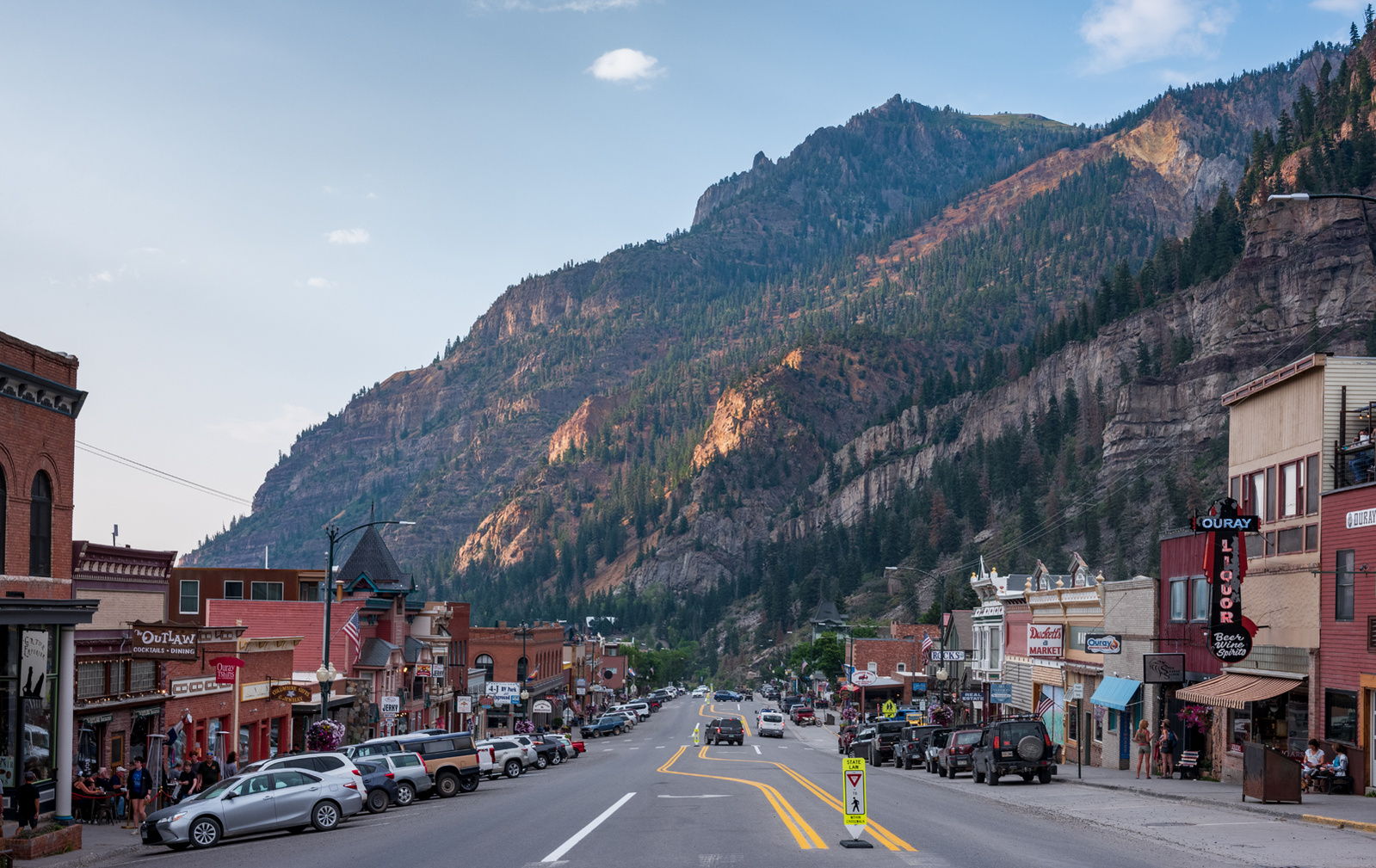 After my stay in Salida, I ventured to Ouray. Ouray is 9 miles as the crow flies from Telluride, if you don't have wings it's 50 miles by car, about an hour's drive. The Main Street of the town is as charming as it gets, with a great mix of Western architecture set in what I believe is a box canyon.
Ouray sells itself as the Switzerland of America. I don't know how that moniker came about. I didn't see a plethora of watch stores as I did in Geneva. I haven't been to Switzerland in many years, but I don't recall it looking like a Victorian-era mining town. Ouray is located between 13,000 foot peaks of the San Juan mountain range. Does that makes it like Switzerland? Whatever you might think of that marketing idea, Ouray is a nice little town. It has a variety of hotels and tourism oriented stores; Ray's Jerky is a standout, a small market, the Chipeta Emporium, a post office, burger, pizza and BBQ places plus a fine dining restaurant, Bon Ton, the name is French, the food Italian. This is creative expression mountain style.
This one made me smile. The Western Hotel, Restaurant and Saloon, built in 1891 it's the largest wooden structure in Ouray. It has no windows, or anything else to make it habitable. It is under reconstruction. That in itself would not be remarkable. The fact that their web site, last updated 10 years ago, is still active, is hilarious. Check it out, you will love the room rates:
http://historicwesternhotel.com/home.html It seems the building sold for 2.35 million in February to a Denver developer who wants to return it to its glory. It was supposed to open in July. Another victim of labor shortage?
I spent the night at the Grand Dame of Ouray, the Beaumont Hotel & Spa. Built in 1886, the hotel has been host to a number of presidents and celebrities, yes, including Oprah. I was told that the owners are in the process of some renovation, how extensive that will be I do not know. I will say the old girl is looking a bit tired. It's been rated a AAA 4-Diamond property for ten years running. If that rating is based mostly on its authenticity, I understand. If it is based on services I have experienced at other 4-Diamond hotels, I think AAA has missed the mark. There is no doorman, no bellman, and the desk has truncated hours. This of course could be due to the staffing problems everyone seems to be experiencing, so I will reserve judgement. The ambiance of the hotel is, well, dim light. Are they emulating Victorian era lighting? It could use some brightening up. There is no TV in the room - that's 1891 authenticity - but there is wi-fi, a tip of the hat to the 21st century, so I watched TV on my laptop.
Well, look here, there is the hint of Switzerland, the Ouray Chalet Inn. With the mountain as a backdrop, could you believe you are in Switzerland?