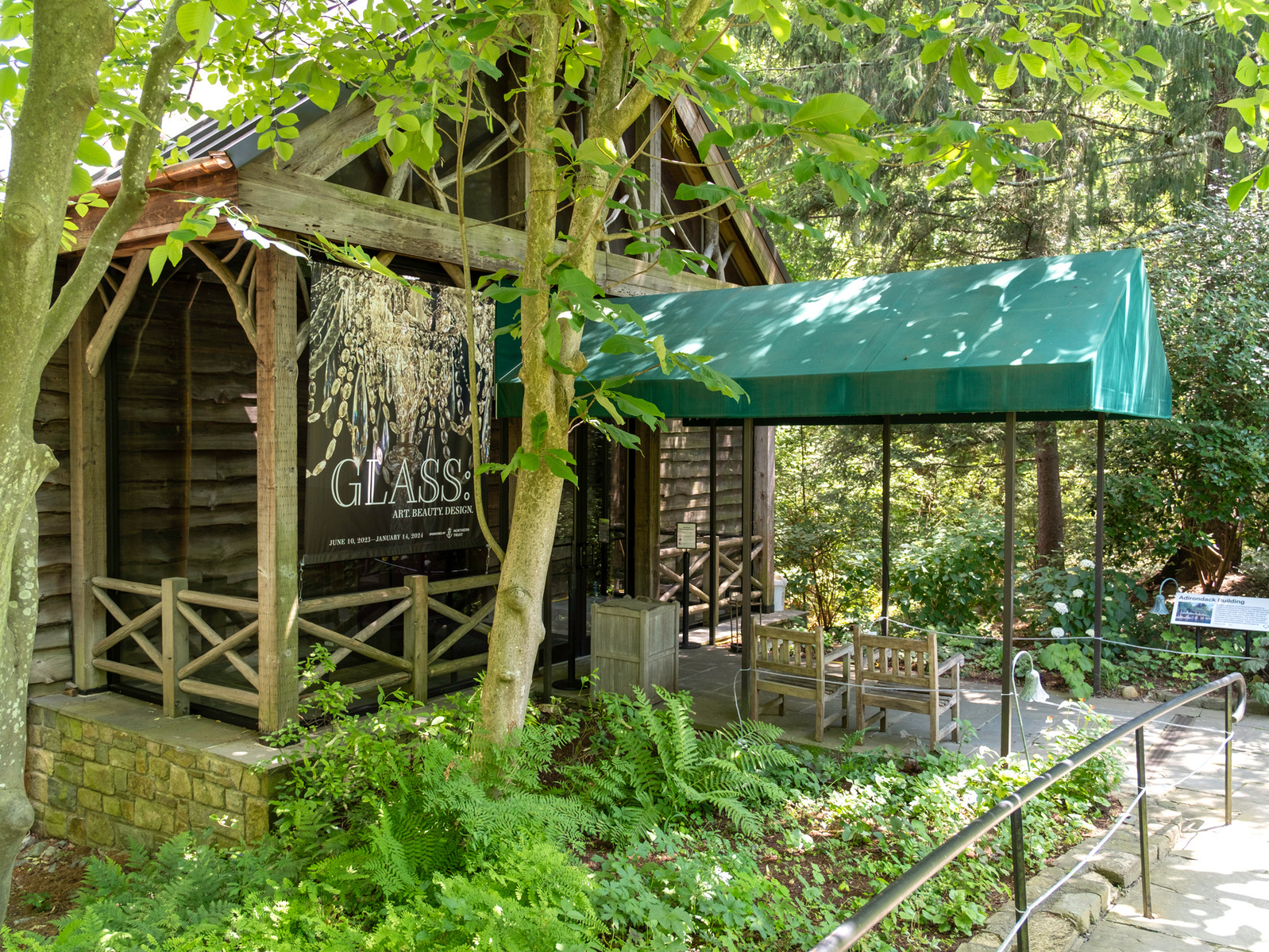 For largest display, click on photograph
In a recent post I gave you an overview of the Hillwood Mansion, the former home of Marjorie Merriweather Post, now a museum. There is another building on the estate, the Adirondack building, which is currently showing most of the pieces from the new exhibit "Glass: Art. Beauty. Design." This rustic building is modeled after Ms. Post's summer retreat in the Adirondack Mountains and makes for an interesting exhibit space.
The exhibit is quite different from other major glass shows I've seen, which tend to be contemporary. Much of the glass is 17th to 20th century from Europe, Russia, China and the United States. Ms. Post was particularly drawn to early American glass and much of it is in the exhibit. There are also a few rather compelling pieces by contemporary artists such as Karen LaMonte and Joyce Scott.
One of the contemporary pieces is this chandelier by New York artist Fred Wilson, comprised of Murano glass, clear blown glass, brass, and steel.
Debra Moore's flora, glass orchids, transition from realistic pieces into a surreal mode.
Karen LaMonte is known for her life-size sculptures in ceramics marble, bronze and glass. Using cast glass techniques she learned in Prague, she created this dress without a wearer. This was my favorite piece of the exhibition.
The following photographs, an assortment of candlesticks, urns, vases, and glassware were also taken in the Adirondack House.
While the major part of the exhibit is in the Adirondack building, there are pieces being shown in the Hillwood Mansion as well.
This is just a tasty morsel of all the glass at the Hillwood Museum.
Glass: Art. Beauty. Design runs through January 14, 2024.